Nasi Kari Jepang Ala AJI‑NO‑MOTO®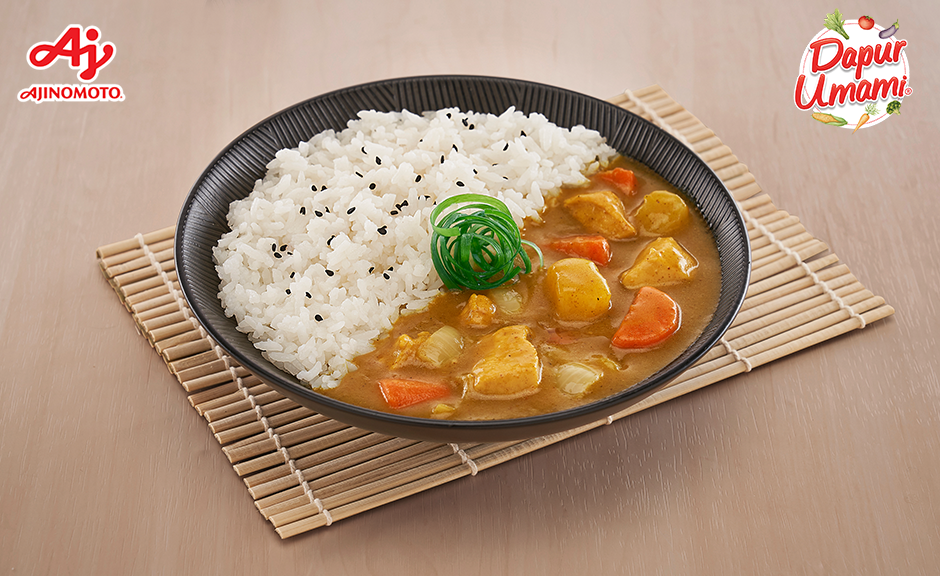 Nasi Kari Jepang Ala AJI‑NO‑MOTO®
Calories 1427kkal
Proteins 34g
Carbohydrates 185g
Fats 47g
Fiber 1g
While curry is usually cooked with a mixture of coconut milk, Japanese curry dishes are made with different ingredients, using meat broth thickened with a mixture of flour. Let's try to taste the difference in Japanese curry Mom! Season with AJI ‑ NO ‑ MOTO® made from natural ingredients, so that your curry has a Japanese umami flavor!
Ingredients
400 gr White Rice
100 gr Chicken Meat
50 gr Carrots
100 gr Potatoes
1 Tablespoon of Curry Paste
1 teaspoon of AJI-NO-MOTO®
1 teaspoon of Salt
500 ml Water
1/2 Onion
2 Tablespoon of Flour (Mixed with 5 tablespoon of Water)
2 Tablespoon of Shoyu sauce
1 Tablespoon of Sugar
4 Tablespoon of Cooking Oil
How To Cook
Step 1
Cut the potatoes, carrots, onions and chicken into medium cubes. Set aside.
Step 2
Heat the cooking oil. Sauté potatoes, carrots, onions and chicken until they change color.
Step 3
Add water, soy sauce, curry powder, AJI-NO-MOTO® and salt. Cook until boiling.
Step 4
Put in the flour solution, cook until the curry thickens and is cooked. Remove and serve with white rice.