Bihun Kuah Tom Yum Ala AJI‑NO‑MOTO®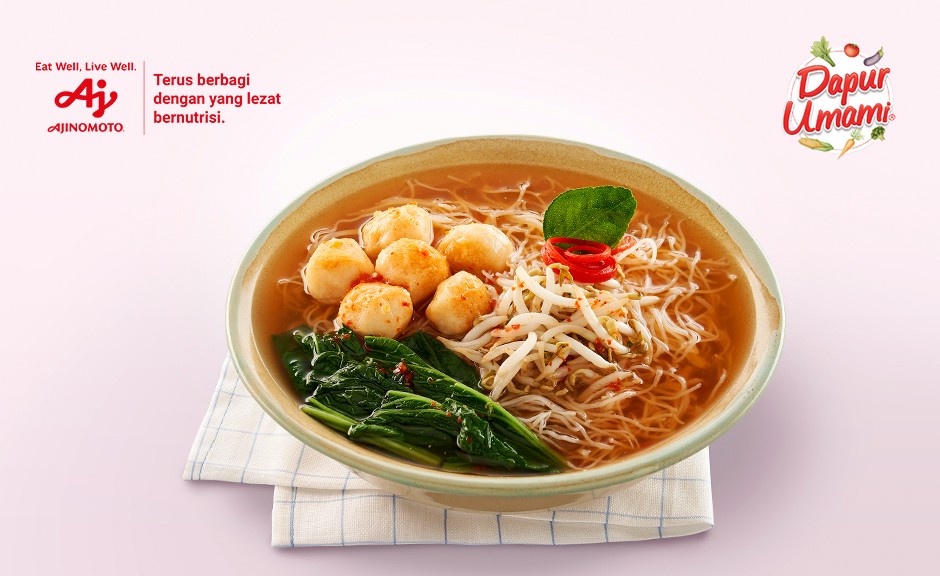 Bihun Kuah Tom Yum Ala AJI‑NO‑MOTO®
Calories 835kkal
Proteins 14g
Carbohydrates 138g
Fats 25g
Fiber 0g
Tired of the same rice vermicelli dish? Try creating the vermicelli with tom yum soup, let's go Ma! Season with AJI ‑ NO ‑ MOTO® made from natural ingredients to prepare Mama's Tom Yum vermicelli!
Ingredients
100 gr Rice Vermicelli
8 Fish Meatball
50 gr Mustard Greens
30 gr Beansprouts
1 Teaspoon of AJI-NO-MOTO®
5 Tablespoon of Lime juice
1 Lemongrass
1 Tablespoon of salt
40 gr Sugar
700 ml Water
2 sdm Mi
4 Large Red Chillies
50 ml Water
How To Cook
Step 1
Cut mustard greens, puree curly red chilies and 50 ml of water, set aside.

Step 2
Heat cooking oil, saute ground spices until fragrant.

Step 3
Add 700 ml of water, lime juice, sugar, lemongrass, lime leaves, AJI-NO-MOTO®, and salt and cook until it boils.

Step 4
Add fish balls, mustard greens, bean sprouts, and vermicelli, stir briefly, remove from heat and serve.