AJI-NO-MOTO® Becomes Yuki Kato's Loyal Friend In Learning to Cook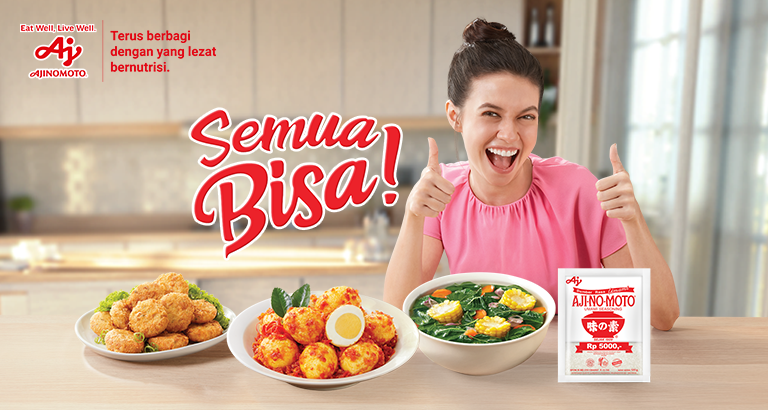 AJI-NO-MOTO® Becomes Yuki Kato's Loyal Friend In Learning to Cook
The problem that is often encountered by young mothers or newlyweds at this time is that they do not have confidence in cooking. The reason is, they are still not used to cooking by themselves in the kitchen. This feeling of insecurity is also felt by almost all housewives. Usually they are always anxious about cooking, especially when it comes to serving delicious food for their families.
In addition, during the COVID-19 pandemic, we are continuously encouraged to #DirumahAja, and reduce activities outside the home. In this case, mothers play an important role to be role models for the family at home, especially in providing delicious and nutritionally balanced meals to boost the immune system.
But now you don't have to worry anymore. Through her latest TV commercial, AJI-NO-MOTO® is here as a loyal friend in making all dishes more delicious. By cooperating with the young and famous artist Yuki Kato as the new Brand Ambassador, AJI-NO-MOTO® is also Yuki Kato's loyal friend to be more confident in cooking, and to make all his dishes more delicious. Because with AJI-NO-MOTO®, everyone can!
About PT AJINOMOTO INDONESIA
PT AJINOMOTO INDONESIA is a leading food seasoning manufacturer that has colored the lives of Indonesians with high quality products and brings delicacy in every consumer's cuisine. With its global slogan "Eat Well, Live Well", at the age of 51, PT AJINOMOTO INDONESIA has made extraordinary achievements that mark the strength and resilience of a company that can make a major contribution to Indonesian society.